Monday, June 1st, 2009
HOORAY FOR ME!
I'm going into my 4th week of consistent, 3x/week updates, and it feels wonderful! I celebrated, quite personally, by doing a special journal comic that includes one of my dearest friends, Anders, that I have neglected for far too long. How can I read it? I'll tell you.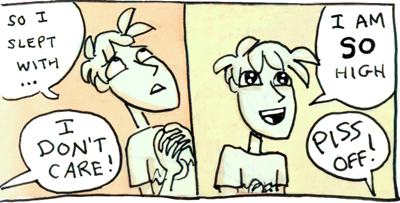 Not working consistently has been a considerable strain on my personal economy. Now, I live in Sweden. It's relatively low risk for me to end up entirely destitute, even working as a cartoonist full-time. However, I could be forced into finding an actual proper job should my savings be completely depleted, and they are nearly depleted. (This means, being a single mum, not having time to work on Anders Loves Maria) And therefore I have decided to hold another Sketch-A-Thon! Yes, I am opening the opportunity to purchase original art from me via donation once again!
The last Sketch-A-Thon was very successful and highly appreciated, and a lot of newer readers have written and expressed their grief in missing their chance. So here we go again:
Sketch-A-Thon 2! Donate for original art!
* Each and every donation: The new diary strip (Attention: spoilers! So let me know if you don't want this) and the mini comic pdf Sex and the Suburbs (These will be emailed to you, make sure your email address is included in your paypal donation form)
* $25+ dollars: A6 hand-inked sketch b&w or simply coloured with Protip markers.
* $50+ dollars: A6 hand-inked, hand-painted watercolour.
* $100+ dollars: A5 hand-inked, hand-painted watercolour.
The highest donor will, on top of their sketch/painting, receive:
* An original hand-inked/painted page from the comic (available comics can be seen in the store)
* The original journal comic done for this Sketch-A-Thon (4 pages, hand inked and coloured) Includes spoilers!
* A signed original copy of the minicomic Sex and the Suburbs (nsfw). There are only 10 left and I'm keeping all but one.
Please, please, please be sure to include in the form what you would like a sketch of.
Since this sort of thing tends to take time you will be mailed an order number and you can check your order status here.
Here's some examples of work done for the previous Sketch-A-Thon.