Monday, November 26th, 2007
A few explanations are needed for today's comic. In the very last panel you can see a "Help Wanted" sign but it's in Swedish (Hjälp Sökes).
Also the Castro Cola thing is only partly a joke. Sweden's first cola beverage (beating Coca Cola by 3 months) was Cuba Cola. We are a socialist paradise. We even have a fast food chain that advertise anti-multinational/anti american propaganda.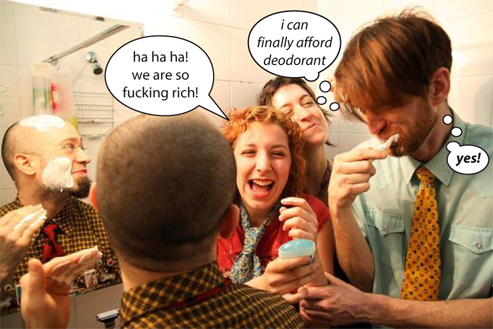 Also I have been made aware that an old friend of mine has recently won $20000 Canadian (that must be about a million in American dollars) in a radio gongshow contest with 2/3′s of his band Trike. They have an album. You should buy it. I normaly wouldn't do any arbitrary whoring for my friends (and I have a lot of talented friends) but this is actually really, really good and very much right up my alley. It sounds a lot like Magnetic Fields/Jens Lekman but with a lot more fun and tap dancing. Great job Stephen!